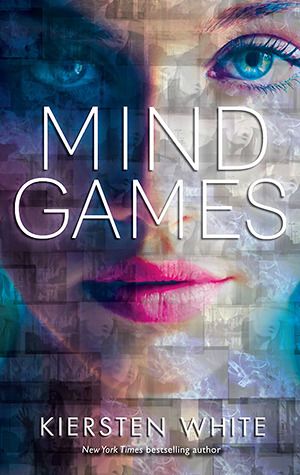 Mind Games
by
Kiersten White
Series:
Mind Games #1
Genre:
Young Adult
,
Paranormal
,
Fantasy
Rating:
♚♚
Pages:
237
Published by
HarperTeen
on February 19,
2013
Amazon
|
B&N
Fia was born with flawless instincts. Her first impulse, her gut feeling, is always exactly right. Her sister, Annie, is blind to the world around her—except when her mind is gripped by strange visions of the future.

Trapped in a school that uses girls with extraordinary powers as tools for corporate espionage, Annie and Fia are forced to choose over and over between using their abilities in twisted, unthinkable ways…or risking each other's lives by refusing to obey.

In a stunning departure from her New York Times bestselling Paranormalcy trilogy, Kiersten White delivers a slick, edgy, heartstoppingly intense psychological thriller about two sisters determined to protect each other—no matter the cost.
The thing about
Mind Games
is that
I was terribly detached to all the characters right from the start
. If I made any connection with any of the characters, it would have to be James. He actually had a compelling "backstory," and he actually had normal, human feelings, unlike Fia and Annie. For one,
Fia really doesn't have a personality.
Or if she does, it just describes her as one word—crazy. She's legitimately crazy. And her sister Annie isn't much better. Annie might not be
crazy
, but I'm certainly not crazy about
her
.
Right off the bat
this book caught my attention, but within 20 pages, it lost it
. I thought Adam was going to be an interesting character to read about, but he wasn't present for the majority of the novel. The idea of Fia being trained from a young age to assassinate people and then choose not to assassinate a geeky teenage boy over a
dog
is ludicrous. (Fia sees Adam petting a dog on the side of the street, and she decides to not kill him. Like what?)
Enough about the characters. The world-building/writing is a whole other matter. For one,
as a reader you're thrown into the plot unexpectedly
. At first, that worked toward the book's advantage, instantly showing the reader action. But as the book went along,
the lack of world-building really irritated me
. I never really knew what was going on. I picked up on certain aspects of the novel, but it took the entire 237 pages to figure out the majority of the plot. And it took me a good 30-50 pages to figure out that Annie was blind.
Also, the writing was enough to get me to groan.
Fia did things three times.
Three. Freaking. Times.
She
tap, tap, tapped
and
pop, pop, popped
. Yeah, well, she
drove, drove, drove
me insane. OH, YES. And
Annie had NO REGARD for her sister whatsoever
. Annie was always talking/thinking about how she loved her sister, but she didn't really show it. In my mind, Annie was holding Fia back unknowingly.
I really don't know what to say about this book, because there really isn't much to say. After 50%,
the plot got really slow and somewhat meaningless
. I felt like it was a gigantic prologue, especially with the constant flashbacks. I would've been semi-okay with the flashbacks if they actually moved the plot along, but the thing is,
the flashbacks did nothing for the novel
, which once again lowered my rating for the book.
Despite my two star rating, I didn't dislike this book, but I didn't like it either.
I don't really have any strong feelings toward it
(okay, maybe strong feelings toward snapping Fia's fingers off if she
tap, tap, taps
them one more time, but that's beside the point); I'm pretty neutral about the whole book. I won an ARC for
Perfect Lies
, so I'll be reading the next book, but it's not high on my TBR. I wouldn't really recommend this book unless you're looking for a quick read and don't mind not feeling anything for the characters/plot/world-building.