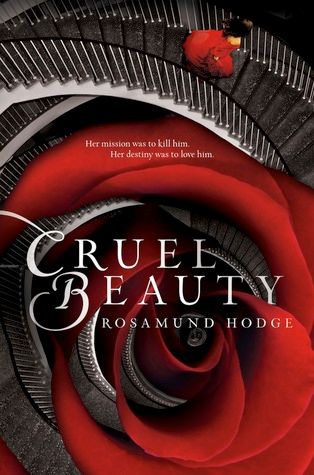 Cruel Beauty
by
Rosamund Hodge
Series:
Cruel Beauty Universe #1
Genre:
Fantasy
,
Young Adult
,
Romance
Rating:
♚♚♚♚
Pages:
346
Published by
Balzer + Bray
on Janurary 28,
2014
Amazon
|
B&N
Graceling meets Beauty and the Beast in this sweeping fantasy about one girl's journey to fulfill her destiny and the monster who gets in her way-by stealing her heart.

Based on the classic fairy tale Beauty and the Beast, Cruel Beauty is a dazzling love story about our deepest desires and their power to change our destiny.

Since birth, Nyx has been betrothed to the evil ruler of her kingdom-all because of a foolish bargain struck by her father. And since birth, she has been in training to kill him.

With no choice but to fulfill her duty, Nyx resents her family for never trying to save her and hates herself for wanting to escape her fate. Still, on her seventeenth birthday, Nyx abandons everything she's ever known to marry the all-powerful, immortal Ignifex. Her plan? Seduce him, destroy his enchanted castle, and break the nine-hundred-year-old curse he put on her people.

But Ignifex is not at all what Nyx expected. The strangely charming lord beguiles her, and his castle-a shifting maze of magical rooms-enthralls her.

As Nyx searches for a way to free her homeland by uncovering Ignifex's secrets, she finds herself unwillingly drawn to him. Even if she could bring herself to love her sworn enemy, how can she refuse her duty to kill him? With time running out, Nyx must decide what is more important: the future of her kingdom, or the man she was never supposed to love.
I'm going to start off this review saying that
Rosamund Hodge can create the perfect atmosphere for a fantasy novel
with her beautiful writing. Let me also say that
I wasn't a fan of her character's relationships with each other
. I liked the characters by themselves but not with each other.
Nyx was a fun protagonist, but she was also sort of irritating
when she kissed Shade in the beginning, and for an assassin, she sure lusted over Ignifex a lot. But take those boys out of the equation, and I enjoyed her personality a lot. She was strong, and she knew her priorities. In the beginning (note that I say "beginning"), she doesn't let Ignifex's appearances (he's gorgeous) get in the way of her mission, which I loved.
Also Ignifex interested me. His entire story interested me.
Some aspects of the novel felt unexplained to me
(the darkness eating him. Correct me if Hodge
did
elaborate, and I'm just forgetting it), but maybe that's just me. His perspective regarding the people he made bargains with was fascinating as well. It allowed me to understand his character on a deeper level. And the fact that the never got angry with Nyx for her antics (you know, trying to murder him and all) was intriguing and made me like him as a love interest even more.
On the other hand,
Shade seemed uninteresting to me. He was also irrelevant to me.
I wish he had played a larger role in the novel so I could've gotten to know him more as a person. In honesty, I didn't really like his personality. From what I read, for someone who had been around Ignifex for so long, he sure didn't know much about his master. And all he ever talked about was how Nyx was their last chance. Talk about repetitive.
Nyx's relationships with both boys didn't really settle with me correctly.
I didn't think she had a bond with either of them, Shade even less than Ignifex. Sure, Nyx and Ignifex has some cute/adorable lines in the course of the novel, and I liked them, but I didn't like them as a
couple
. They just didn't mesh well for me.
The world-building was amazing.
Seriously. Despite a few holes in Ignifex and Shade (I think they were warranted with his situation), I thought that the history of Arcadia was explained very well, and I loved that aspect of the novel. Also, Hodge's writing just made everything so much better. Her word choice was marvelous.
In conclusion,
I enjoyed this book, but honestly not to the extent that I wanted to
. Before reading this book, all I read were rave reviews, so I was expecting something jaw-droppingly amazing. It was good, but not a favorite. It was a good Beauty and the Beast retelling, so if you're looking for one of those, go right ahead!