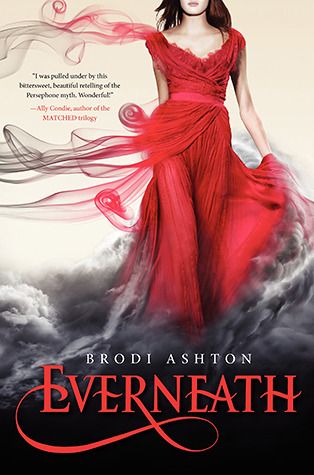 Everneath
by
Brodi Ashton
Series:
Everneath #1
Genre:
Young Adult
,
Fantasy
,
Paranormal
Rating:
♚♚♚♚½
Pages:
370
Published by
Balzer + Bray
on January 24,
2012
Amazon
|
B&N
Last spring, Nikki Beckett vanished, sucked into an underworld known as the Everneath. Now she's returned-to her old life, her family, her boyfriend-before she's banished back to the underworld . . . this time forever. She has six months before the Everneath comes to claim her, six months for good-byes she can't find the words for, six months to find redemption, if it exists.

Nikki longs to spend these precious months forgetting the Everneath and trying to reconnect with her boyfriend, Jack, the person most devastated by her disappearance-and the one person she loves more than anything. But there's just one problem: Cole, the smoldering immortal who enticed her to the Everneath in the first place, has followed Nikki home. Cole wants to take over the throne in the underworld and is convinced Nikki is the key to making it happen. And he'll do whatever it takes to bring her back, this time as his queen.

As Nikki's time on the Surface draws to a close and her relationships begin slipping from her grasp, she is forced to make the hardest decision of her life: find a way to cheat fate and remain on the Surface with Jack or return to the Everneath and become Cole's queen.
The first thing that really stood out in this book to me was the world-building. Ashton was able to create a world that felt real even when it wasn't. The mythological aspect in this was super fascinating, and I loved how Nikki was submerged into the world of the Everneath. Her interactions with the characters in the story were realistic and didn't seem forced at all.
The only person in this book that I didn't like was Jules. She just didn't seem as genuine and as real as Cole and Jack were. She felt more as a person who was there just to move the pace along. This wasn't a
big
deal, but I think it's important to mention. She ended up being more a nuisance more than anything.
Personally, I'm more toward Jack in this book. Cole doesn't seem like the type of person that one can depend on. He doesn't seem committed to anything other than himself. He's such a stereotypical bad boy, too. Although I'm more toward Jack, I'm still not in love with Jack nor do I love him. I think the only reason I couldn't give this book a full five stars is because I'm not completely convinced that I need to be in love with these characters. They seem real and all, but I just haven't formed an emotional connection to them (yet).
I have to admit that I do personally really enjoy that Jack never gives up on Nikki. It's sweet, and I loved that about him. I suppose Cole doesn't really give up on her either, but in a different sense.
I think Aston created the perfect atmosphere for this book with her writing. She really set the tone as mysterious and borderline fantasy, which I love. For some reason, I particularly enjoy urban fantasy, so this book was perfect for me.
This book
is
mostly romance and relationships, so I was extremely happy when the romance didn't outside and block the plot. That just didn't happen, and I loved that about this book. I honestly tried to find something that I hated about this book and couldn't stand.
I came up blank. I recommend this book to nearly anyone. I think so many people will enjoy reading it.