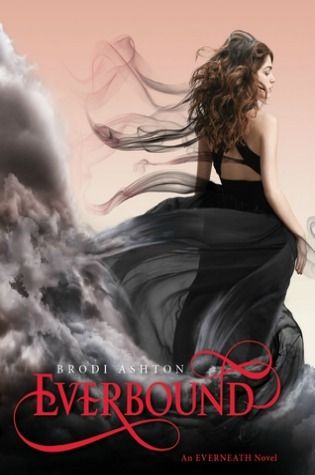 Published on January 22, 2013 by Balzer + Bray
Young Adult | Fantasy | Paranormal
358 Pages
Nikki Beckett could only watch as her boyfriend, Jack, sacrificed himself to save her, taking her place in the Tunnels of the Everneath for eternity — a debt that should've been hers. She's living a borrowed life, and she doesn't know what to do with the guilt. And every night Jack appears in her dreams, lost and confused and wasting away.

Desperate for answers, Nikki turns to Cole, the immortal bad boy who wants to make her his queen — and the one person least likely to help. But his heart has been touched by everything about Nikki, and he agrees to assist her in the only way he can: by taking her to the Everneath himself.

Nikki and Cole descend into the Everneath, only to discover that their journey will be more difficult than they'd anticipated — and more deadly. But Nikki vows to stop at nothing to save Jack — even if it means making an incredible sacrifice of her own.

In this enthralling sequel to Everneath, Brodi Ashton tests the bonds of destiny and explores the lengths we'll go to for the ones we love.
Immediately after reading
Everneath
, I had to go out and buy
Everbound
. I'm not even kidding. I finished
Everneath
on Friday night, and then I went to Barnes & Noble to buy
Everbound
Saturday morning. The series is that addicting.
There's just something about Ashton's writing and world that draws me in.
In
Everneath
, I wasn't Team Jack or Team Cole, but, let me tell you,
I'm definitely Team Cole now.
I'm one for a "tortured" soul, and I'd most certainly call Cole a tortured soul.
Everbound
really explored the depth to his character more. And the ending really proved to me that Cole, although in love with Nikki, makes his decisions based on his motivations—to win the girl of his dreams.
While I love Cole, Jack on the other hand is lower on my radar.
Jack is very dependant on Nikki, which I don't like in a character.
I like a character that's strong, independent, and can kick butt. Jack is none of the above. Stuck in the Everneath, Jack is pretty much nonexistent in this novel other than the flashbacks that Nikki has of him. At first, I thought the flashbacks weren't going to work for me, but after the first two or so, they didn't annoy me as much.
Jack is basically the jock who is in love with the unknowing, pining main character and is jealous of every other guy to talks to said girl.
Ashton is extremely good at world-building.
She meshes our world with the Everneath's so nicely, creating a wonderful urban fantasy novel. The fantasy aspect of
Everbound
flows so nicely, and I don't question anything, because Ashton says right out how things are. While Nikki is in the Everneath with Cole, it was so easy for me to picture myself in the Everneath along with Nikki. My one problem with Nikki and Cole going to the Everneath would be the fact that everybody made the Everneath out to be some terrifying and hard-to-navigate place (the labyrinth as well),
but it only took them a couple days to reach the center [of the Everneath], which supposedly nobody had done before.
At the end, I'll admit that I guessed the identity of a certain somebody before it was revealed. Albeit, I didn't figure it out until about 10 pages before the big revelation, but nonetheless I figured it out. For some reason,
the predictability of Ashton's writing isn't bad
. I kind of like it. It's more of the, "YES! I guessed it right!" rather than the, "Oh my god, why do I keep guessing? That makes it a crappy novel."
While I guessed the identity of a certain somebody, I did
not
guess the very ending. I would've
never
guessed the very ending. It was just so shocking and amazing.
I loved the ending yet at the same time I hated it.
In the end, I really enjoyed
Everbound
.
I can't say I'm excited to read Evertrue though. I've just heard that so many people are disappointed by it.
Right now, the Everneath trilogy is one of my favorite trilogies. I really don't want to be disappointed by the third book. Though I have to say that I really want to read
Evertrue
just to see who Nikki chooses, although I'm pretty sure I already know.